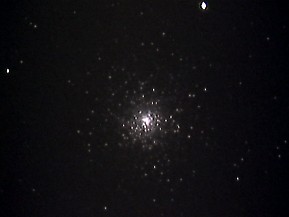 Click the image to see the full size picture (1.57"/pixel).
M15 - The Globular Cluster in Pegasus, 17.11.2001 (21:20 UT)
Resolution: 3.14 arcsec/pixel
Camera: Vesta 675SC + 0.6FR
Telescope: 8" F6 Orion Europa Newtonian
Result focal ratio: F3.6
Exposure: 44x5s (gain 80%), 40xDF
Seeing: lim.magnitude for naked eye 4.0, wind (blinking stars)

It was only 23° above horizon, but I tried to take a photo.
Stacked with K3CCDTools in X2 mode.