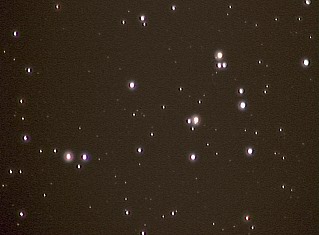 Click the image to see the full size picture (4.81"/pixel).
North is to the left.
M44 - The Beehive Cluster (Praesepe) in Cancer, 05.05.2002 (21:12 - 21:21 UT)
Resolution: 9.62 arcsec/pixel
Camera: Vesta 675SC2 + 0.6FR
Telescope: 80mm F5 Skywatcher Refractor
Result focal ratio: F3.0
Exposure: 33x8s (gain 100%), AMP OFF, 24xDF
Seeing:
Temperature:

1, Stacked with K3CCDTools
2, Histogram + gamma factor 2.0 (K3CCDTools)

It is well known open cluster. Its relative brightness is 3.1mag.