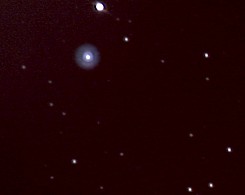 Click the image to see the original size picture (0.96"/pixel).
NGC2392 - The Eskimo Nebula, 09.02.2002 (01:07 UT)
Resolution: 1.92 arcsec/pixel
Camera: Vesta 675SC at prime focus
Telescope: 8" F6 OrionOptics Europa
Exposure: 74x12s (gain 100%), 40xDF
Captured and summed by K3CCDTools
Post-processing: Corel PhotoPaint
Seeing:

Nice blue planetary nebula in constellation Gemini.
Gamma 2.70 were used in K3CCDTools to reveal whole nebulosity.