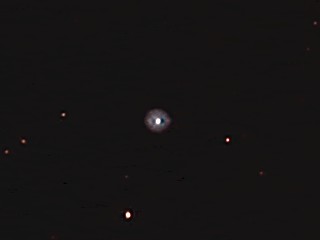 Click the image to see wider field picture (0.96"/pixel).
Click
here
to see X2 sized picture (0.48"/pixel) - Result of X2 mode in
K3CCDTools
.
NGC6826 - The Blinking Eye Nebula, 23.11.2001 (17:50 UT)
Resolution: 0.96 arcsec/pixel
Camera: Vesta 675SC at prime focus
Telescope: 8" F6 OrionOptics Europa
Exposure: 19x5s (gain 75%), 25xDF
Seeing: lim.magnitude for naked eye 4.0

Because of wind and blinking stars deconvolution had to be used. Stacked in K3CCDTools and result reprocessed in IRIS (deconvolution).