K3CCDTools - Connecting SC modified webcam to Serial Port
Standard SC modified camera is controlled via parallel port. However, the new notebooks in state of art market lack of parallel or serial ports.
The good news is that it is possible to control standard SC modified camera via serial port. Those who have not serial port on their computer can use USB to Serial Port adapter. USB to Serial Port adapter is compatible with standard serial port only on software level, but it is sufficient for using this adapter with K3CCDTools.
SC 2.0 modified cameras require 4 output signals which are used for controlling them. Standard hardware serial ports have possibility to control 3 output signals, while software compatible serial ports (e.g. output of USB to Serial Port adapter) offer only 2 output signals. Another problem of serial port is that output levels of serial ports are -12V and +12V, while parallel port has 0V and 5V. That's why a direct connection of SC modified camera to the serial port could damage the camera which is built for 0V/5V signal levels.
There are several ways of converting serial port signals to the levels of parallel port signals. One of them is to use transistors (the same principle is used also in Steve Chambers' serial to parallel port adapter).
The following adapter for serial port is compatible with SC modified cameras and also with commercially produced cameras like SAC7, SAC7b, ATIK - ATK-1C, ATK-1HS, ATK-2HS.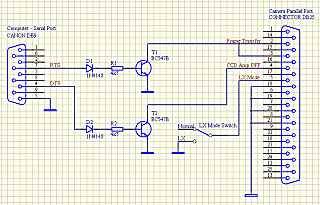 Click the picture to see full-sized schematic diagram.
The transistors convert the signal levels to the levels suitable for camera and also invert the signal.
The adapter was built into connector body. The switch is used for switching long exposure mode on/off.
You can see the construction details in the following photos (click the photos to enlarge them):
| | |
| --- | --- |
| All parts inside the connector box | The result appearance |

The proper settings used in K3CCDTools are:
Settings for serial port control
Control Port specifies the port used for controlling the camera.

COM1-COM8 represent software-level compatible serial ports
(incl. USB to Serial Port adapters)

COM1 ($03F8) – COM4 ($02E8) represent hardware serial ports
(not compatible with USB to Serial Port adapters).
Back to K3CCDTools - How To page
Back to Astrophotography page
---
Computer generated images, real images, drawings and texts are property of the author and may not be reproduced or used without permission of author.
---

Last Update: 29.07.2004