My software for Casio Pocket Viewer


A, K3Astro
B, K3Nikon

I wrote this software for my CASIO Pocket Viewer PV-S460.
It also works on PV-S660 and should work also on newer types if they are backwards compatible with PV-S460.

The great advantage of Casio Pocket Viewer is its battery life - up to 160 hours of working.

Important note: This software is not compatible with PalmOS or Windows CE.
---
This is a pocket planetary almanach. It contains many useful data necessary for planning astronomy observations:
1, Planet's coordinates (R.A., DEC), also including ecliptical coordinates and altaz coordinates
2, Planets, Moon and Sun rise and set
3, Planet's magnitude
4, Planet's distance and angular size
5, Moon phases
6, Central meridian of Mars (incl. small Mars map)
7, Jupiter's central meridian, position of Great Red Spot
8, Position of 4 Jupiter's moons
9, Tilt of Saturn's rings
10, Planetary orrery
| | | |
| --- | --- | --- |
| Program icon in Main menu | Sun data, incl. stellar time, time difference | Moon and its phases |
| Mercury | Venus | Mars with map |
| Jupiter and it's moons | Saturn | Uranus |
| Neptune | Orrery of inner planets | Orrery of outer planets |
| Time keyboard enables to change time | Locations database | |


B, K3Nikon - Remote control for Nikon digital camera
This program enables to control Nikon Coolpix digital cameras via Pocket Viewer's serial port. It enables long exposures for my Coolpix 995 up to 60s. For new Coolpix types it enables even longer exposures.
Features:
1, Long exposures
2, Repeating exposures with specified pause between exposures
3, Zoom and unzoom
4, Indication of camera mode (Auto / Manual / Playback)
5, Indication of number of remaining frames
6, Indication of current time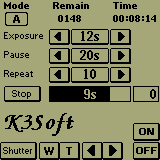 ---
If you are interested in using this software, you can ask me for a free trial version here.
Important note: This software is dedicated for Casio Pocket Viewer and is not compatible with PalmOS or Windows CE.
| | | |
| --- | --- | --- |
| If you found this software useful for you can make a donation: | | |
---
Computer generated images, real images, drawings and texts are property of the author and may not be reproduced or used without permission of author.
---

Last Update: 15.01.2006