Astro Utilities
License and Disclaimer

The programs provided on this site are FREE FOR PERSONAL, NON-COMMERCIAL USE, but any kind of DISTRIBUTION OF THEM IS NOT ALLOWED.
CONTACT THE AUTHOR FOR PERMISSION PRIOR TO USING THE SOFTWARE FOR OTHER PURPOSES.

You can use this program COMPLETELY AT YOUR OWN RISK.
The software is provided to you "AS IS" and WITHOUT WARRANTY OF ANY KIND, express, statutory, implied or otherwise, including without limitation any warranty of merchantability or fitness for any particular or intended purpose. In no event will I (Peter Katreniak) be liable for any direct, indirect, punitive, special, incidental or consequential damages or loss of any kind whether or not author (Peter Katreniak) has been advised of the possibility of such loss.
THE AUTHOR AND OWNER OF THE PROGRAMS IS PETER KATRENIAK.
---
A, ArtiStar - Artificial Star(s)
This simple program enables to simulate star (or stars) or some other objects (nebulas, ...) It can be used for some tests of equipment. I made this program for testing autoguiding in K3CCDTools. But it may be used also for testing focusing. Simply said, everytime, when you have no clear skies, you can use this program. The star image used as default image was created by using excellent Aberrator software.
The program is controlled via mouse right click menu and cursor arrow keys.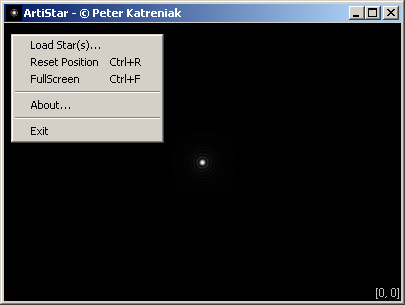 Download ArtiStar (302860 bytes).


B, AVIRepair - AVI Repairing Tool
Have you experience with crashing computer at the end of capture session?
It means loosing the AVI file.
The problem is, that AVI header is written at the end of capturing session, when AVI capturing is stopped.

I have developed a small utility for reparation of bad AVI files and it will be part of K3CCDTools in future.
I have my own experience - after 1 hour of capturing M1 my computer froze (because of no free HDD space), so I had great motivation for creating such utility ;-)).

The principle of the utility is copying of good AVI header from another (good) AVI file. The source file must have the same resolution and must have at least the same number of frames (no problem to use larger AVI files).
If you don't have source AVI file, you can create it by capturing any object now.

Reparation procedure - Step by step
1, Backup your corrupted file
2, Run AVIRepair
3, Select source AVI file (good one)
4, Open Corrupted file
The corrupted file's AVI header will be replaced by good one.
5, Open file in VirtualDub with advanced options ("Popup extended open options" checkbox must be checked)
6, Let VirtualDub repair damaged index
7, Select Video Direct Stream Copy option (menu Video - Direct Stream Copy)
8, Select No Audio or Audio Direct Stream Copy option (menu Audio - No Audio/Direct Stream Copy)
9, Save file

The repaired file should be OK now. Good luck ;-)

Download AVIRepair (168454 bytes).


Back to My Software page.
---
Computer generated images, real images, drawings and texts are property of the author and may not be reproduced or used without permission of author.
---

Last Update: 08.12.2004