What's New

---
What's New in K3CCDTools 2.1.3

1, Animated GIF export
Now you can export your sequence as a GIF animation. Use the File | Export Frame Collection command: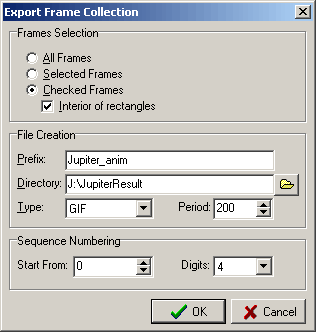 The Period parameter specifies a frame period (duration) in milliseconds.

Look at the How to create smooth animations in K3CCDTools 2 article for more information.


2, Enhanced Sequence timing info
Now you can also see the time of the frames for AVI files or image sequences without LOG files. The timing info is calculated according to the file's date/time. This info is not as precise as the timing infor from LOG files (see K3CCDTools version 2.1.2 features), but when the LOG file is not present, it is still valuable information.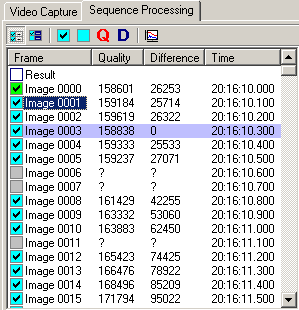 Precise timing info (using LOG files) is now available for the following modes:

| | | |
| --- | --- | --- |
| Mode | VFW standard | WDM standard |
| Video sequence capturing | | |
| Single frame capturing | | |
| Long exposure capturing | | |


3, Enhanced port management for NT based operating systems
   (Windows NT, Windows 2000, Windows XP)
Enhanced port management enables you to use parallel or serial ports in NT based operating systems also in case when users have not Administrator user rights. K3CCDTools 2.1.3 now provides 2 modes for NT port driver installations:
1, Permanent installation - this is necessary for users with non Administrator rights
2, Dynamic installation - the driver is installed automatically during the K3CCDTools startup and uninstalled after closing K3CCDTools.

You can find more information in K3CCDTools Help - chapter 6.1 How to use K3CCDTools with non Administrator user rights.
Back to Top
Back to K3CCDTools Features page
---
Computer generated images, real images, drawings and texts are property of the author and may not be reproduced or used without permission of author.
---

Last Update: 24.03.2006