What's New

---
What's New in K3CCDTools 2.3.5
1, Autoguiding with KITSRUS interface
K3CCDTools now supports another wide-spread autoguiding interface - KITSRUS 108:
http://www.kitsrus.com/kits.html#k108
2, "Illuminated" guiding buttons
Control buttons in Drift Explorer are now "illuminated" according to their activity - i.e. when "Guide West " guiding action is active, then the West button lights in red color.

3, Digital camera control interface (e.g. for Canon EOS cameras)
You can controll your digital camera via some parallel port bit. You recall this tool by using menu Tools - Digital Camera Control. You can even allow to put its tool button on the main toolbar.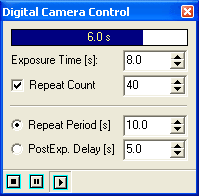 The camera control bit is set in Settings dialog - Camera tab - Digital Camera sub-tab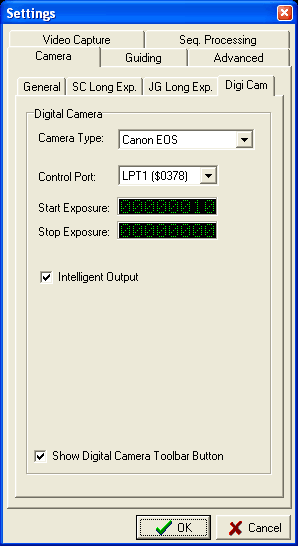 Together with ST-4 guiding protocol and Enhanced Bonduelle interface you can controll now 3 devices via one parallel port:
You can even further modify the Bonduelle interface to allow 3 bits for controlling the SC camera.
4, Zoom Tool in sequence processing mode
Zoom tool enables you to magnify any part of image (or AVI frame). There are 3 zoom levels available: 2X, 4X and 8X. If you set main zoom level to 400% (using main menu Zoom), then you can obtain even 32X total zoom. It is also possible to choose Negative option which allows better observation of dim objects (deep sky objects). Cross in Zoom tool enables you to precisely select alignment point or measure the object distance. Finally, the Zoom window is resizable - so if you have higher screen resolution you can watch your images in both sizes simultaneously.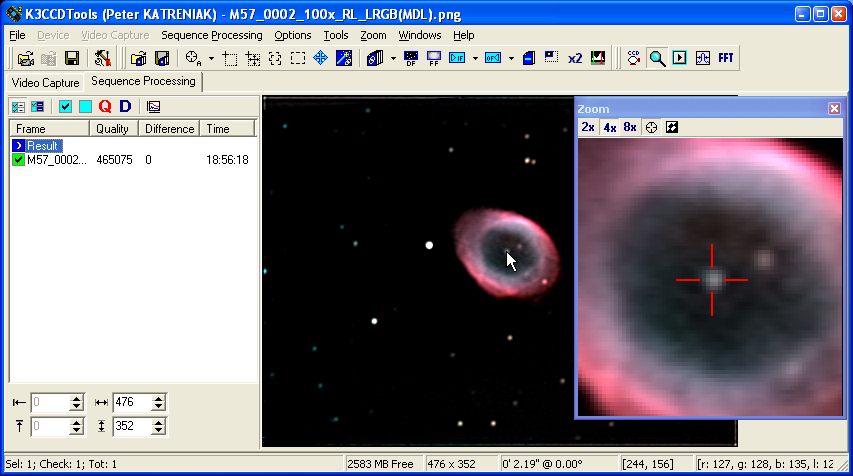 5, Enhanced Sequence Player
Now the Sequence Player has resizable window (e.g. for easier frame navigation). The lowest frame period is now 10ms - for fast browsing (instead of 100ms). It also displays the current frame at its title bar.

6, Support for Meade DSI FITS files
Now you can process FITS files which were captured using Meade DSI camera
7, Support for 16/48-bit PNG files
Now K3CCDTools enables to process, export and save 16/48-bit PNG files. 16-bit depth per color channel allows you to save more information to a single file. It's important if you intend to further process your results in other programs like Photoshop etc.
Furthermore PNG files offer very good lossless compression.
Fixed bugs:
GIF export format now properly shows spinedit for setting animation period
TIF, FIT export now contains also output text filter information
some minor bugs fixed

Back to Top
Back to K3CCDTools Features page
---
Computer generated images, real images, drawings and texts are property of the author and may not be reproduced or used without permission of author.
---

Last Update: 24.03.2006