What's New

---
What's New in K3CCDTools 3.2.5
Introduction
This update again brings some new features. The most important is the Meade DSI II and Meade DSI Pro II support and Lumenera support improvements .


Video Capture

1, Meade DSI II and DSI Pro II cameras support
K3CCDTools 3.2.5 version supports now Meade DSI, DSI Pro, DSI II, DSI Pro II cameras.
Now the camera type is automatically recognize - there is no need to specify whether camera is monochrome or color. For DSI II camera series K3CCDTools also shows the actual camera temperature and logs it to capture log file.
Now you can use all well known tools with all DSI and DSI II series of Meade cameras - Brightness Level Meter, Live Histogram, Focusing Tool, Auto-guiding, FFT Dialog.
Requirements: The new DSI driver dsiusb.sys (October 2005 or newer) is required.
2, 12-bit AVI capturing with Lumenera cameras
Lumenera cameras enable to capture frames also at 12-bit resolution. In this capture mode the frames are produced in 16-bit mode, but only the higher 12 bits contain useful data. The lower 4 bits are always 0, i.e. they don't contain any useful data.
K3CCDTools 3.2.5 support now this 12-bit mode and stores data in 12-bit format. This approach has 2 advantages:
result 12-bit AVI files are by 25% smaller than 16-bit AVI files
it's possible to achieve higher real capture speed in 12-bit mode, because less HDD data throughput is now required
You can find my video capture speed tests results on my Lumenera Lu075M camera test web page.

Note: You can set the Lumenera capture depth for its 16-bit frame mode in K3CCDTools ini file, section [LucamCapture]:
[LucamCapture]
AVI12bit=1
For 16-bit capture mode set AVI12bit=0, for 12-bit capture mode set AVI12bit=1. Default is AVI12bit=1.

3, Implemented capture time limit for Lumenera cameras
Now you can set the capture time limit Lumenera cameras like it was possible with other cameras in VfW or WDM capture mode: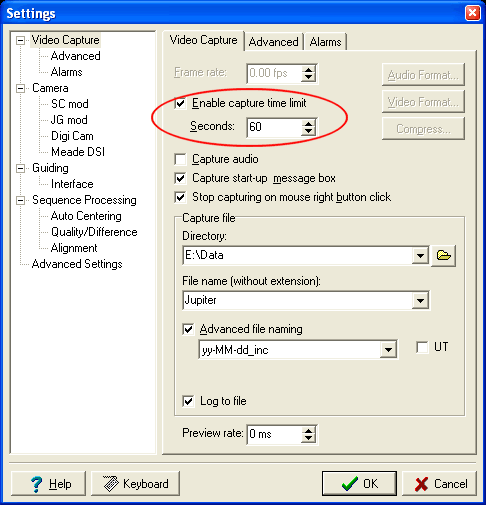 Autoguiding

Fixed problem with SkySensor 2000 ASCOM driver
The new version of K3CCDTools has fixed the SkySensor 2000 ASCOM driver bug:
ASCOM error Method "AtPark" not supported by automation object.


Bug Fixes
- Fixed some minor bugs in the Video Capture and Sequence Processing parts.
- Version 3.2.5.1028 has the following fixes:
Fixed bug in the "If Darker" processing method (present for color sequencies)
Fixed bug in 12-bit Lumenera capturing in Long Exposure mode
Back to Top
Back to K3CCDTools Features page
---
Computer generated images, real images, drawings and texts are property of the author and may not be reproduced or used without permission of author.
---

Last Update: 31.07.2006