What's New

---
What's New in K3CCDTools 3.3.6
Introduction
This version brings again some new features. The most important are the Lumenera support improvements, Live deBayering and for color RAW modified cameras and several new features in sequence processing, e.g. Field Rotation Filter.

Video Capture

1, Enhanced support for more Lumenera camera models

Added support for SKYnyx and Infinity cameras + other LuXXX or LwXXX models
Implemented the log feature
Fixed capturing problem in 12-bit depth for certain types of cameras
New Lumenera Control Panel dialog: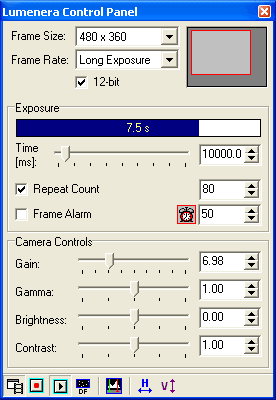 Lumenera settings can be set in the Settings dialog: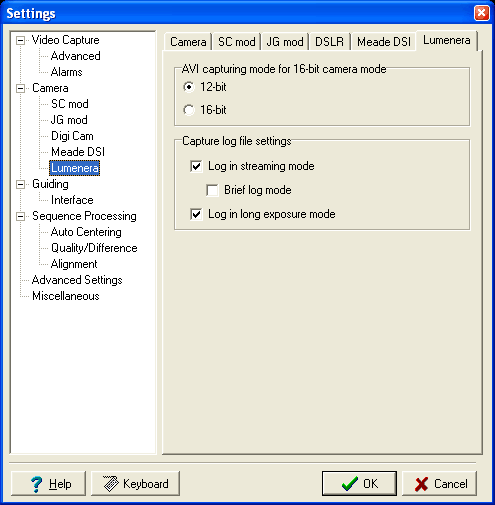 Various capture resolutions are defined in the Lumenera.ini file, so you can edit it, add or remove some frame sizes. The structure of the Lumenera.ini file is self-explanatory: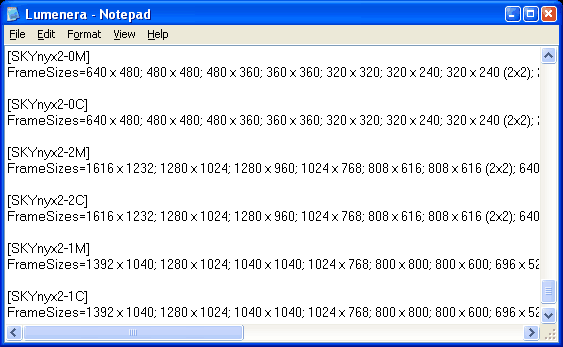 2, Horizontal and vertical preview flipping for Lumenera cameras
Added new tool buttons for vertical and horizontal preview flipping (useful for telescope setups which provide side reversed image). This function effects only preview, the captured image stays unchanged.

3, Color (deBayered) preview for RAW modified webcams
The preview of RAW modified webcams can be now deBayered. The work with the color RAW modified camera is now as easy as with normal color webcam - the live video preview is color now.
The deBayer filter can be selected in the Settings dialog - Camera section: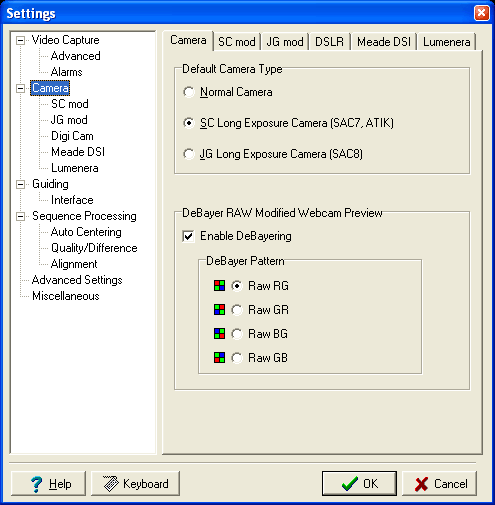 In WDM mode the preview is deBayered also in stream mode and during stream capturing. In VFW mode the preview is deBayered only in long expsoure mode.
Stream mode Preview
Stream mode Preview
while capturing
LX mode Preview
LX mode Preview
while capturing
VfW
WDM
This function effects only preview, the captured image stays in RAW format. It enables you to choose various deBayering algorithms during processing time.


Sequence Processing

4, Reworked input image filters
Now it's possible to use multiple input filters. E.g. you can choose the deBayer filter and the green component filter at once - the filters are applied in the same order as they are displayed in the Input Image Filters menu. The icon of the Input Image Filters shows now the last used filter (i.e. in our example it shows the green color component).

This enhancement allows you to process sequence in one step instead of using several intermediate steps.
5, Added new Field Rotation Filter
It helps you to process sequences taken on Alt-Az mounts or static tripods - where the sequence is effected by field rotation.

Field Rotation filter has its own dialog box:


Its usage is explained in the K3CCDTools help file (press F1 key when the dialog is displayed). You can also find a special tutorial for using this filter here:
How to process sequence affected by field rotation

The effect of the Field Rotation filter is shown in the following zoomed pictures:


| | | |
| --- | --- | --- |
| Sequnce stack WITHOUT Field Rotation filter | | Sequnce stack WITH Field Rotation filter |

6, Reworked Export Frame Collection tool
The Export Frame Collection tool now enables you to choose the interior of frame rectangles for both selected frames and checked frames. Furthermore it has more user friendly user interface and enables you to choose the codec for exported AVI sequence (including the 16/48 bit K3CC codec).
The new Export Frame Collection tool also enables you to export frames with Live Histogram applied (i.e. when the Live Histogram is active, then exported frames are preprocessed with the set histogram settings).

7, New Export Averaged Frames tool
This tool was introduced already in the version 3.2.5, but it hasn't been described yet. Now it has also enhanced user interface like the Export Frame Collection tool.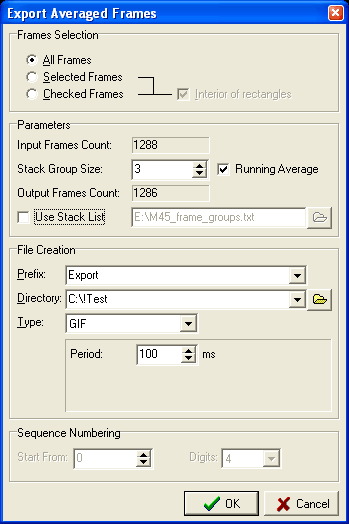 This tool enables you to stack/average subparts of the processed sequence and export the stacked/averaged result to various file types (incl. AVI and animated GIF). The subparts can defined by number of frames in one stack group (Stack Group Size value) or by special Stack List file in the format like in the example:
0-9
10-19
20-29
...
The numbers in text line specify the start and end frames used for the group stack. The groups specified in the individual lines can have various size and it is possible to skip some frames.
If you choose the Stack Group Size, you can also check the Running Average checkbox - then the groups are created by the "running window" - e.g. when you select group size 5 then the following groups will be stacked:
0-4
1-5
2-6
3-7
etc.
This tool is useful for making creating animations of slow phenomena.


Other Enhancements
8, Automatic Update Checking
The new version enables you to automatically check whether new K3CCDTools version is available. It's possible to select various checking intervals.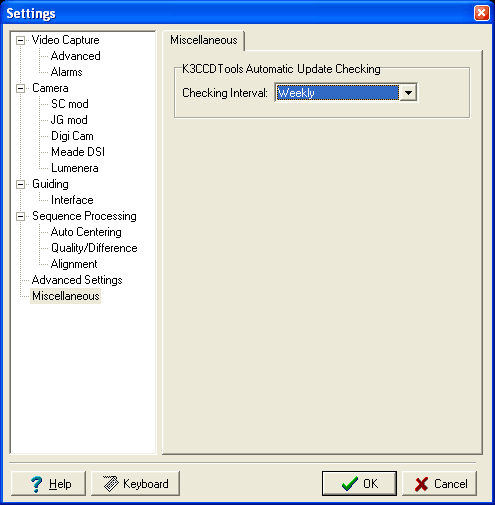 The default value is "Only manual chcecking" - then you can check the updates manually by using the Help - Check for Updates menu.
Back to Top
Back to K3CCDTools Features page
---
Computer generated images, real images, drawings and texts are property of the author and may not be reproduced or used without permission of author.
---

Last Update: 26.04.2006